ExperienceQualityExcellencePersonalization
---
ABOUT US
Owner, Zach Milnes, grew up around the jewelry business he has been active in the business for over 30 years. 17 of those years in the Grand Valley at Page Parsons' Jewelers, and 5 years in our own location. He is skilled in forging, soldering, setting, fabrication, laser welding and jewelry appraisals. Tanya is working towards GIA graduate.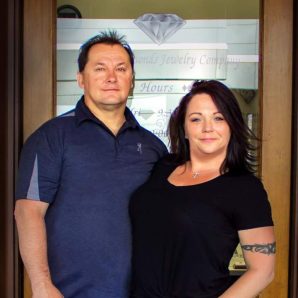 Zach and his wife were very friendly and eager to earn my business, which I really respect. I dropped off 2 pieces to be sized and just over 24 hours later, I was called to let me know they were already done. The quality of work was fantastic. Most of all I felt comfortable leaving my treasured family heirlooms in his care.
The people of Zach of Diamonds were superb and very thoughtful with my precious wedding rings! Did a stellar job and I could not be happier! And on top of doing such a good job, my rings are insured with them for a year against any damage or problems as well as cleanings and checks. Ten thumbs up!!